Synopsis
A documentary featuring survivor stories of state-sponsored violence during the Martial Law years of the dictator, Philippine President Ferdinand Marcos Sr. Thousands were jailed, tortured, raped and killed while communities were massacred in the crossfire between state forces, Maoist rebels and Muslim separatists. In 2013, the Philippine government passed a landmark law which officially recognized these atrocities and mandated compensation for the victims, funded by the illegally-acquired wealth of Ferdinand & Imelda Marcos hidden in their Swiss Bank accounts. 11,103 victims were given compensation as a result of the law.
DOCUMENTARY | 86 min | 2022 | Language: English, Tagalog | Subtitles: English, Tagalog
Production Team and Crew
Click on the icons to read about the core creative team
Supervising Producer
Zonia Bandoy
Story Consultant
Luz Rimban
Cameramen
Manuel Araneta
Kristofferson Cruz
JA Longares
EJ Mijares
Albert Leo Baring
Fuebe Longares
Janina Magundayao
Drone Operator
JA Longares
Chief Sound Recordist
Che Villanueva
Sound Recordists
Rosemarie Aborque
Allan Hilado
Alfredo Perez
Qi Perez
Carlo Picache
Miguel Reyes
Post Production Team
MalasMalas Studios
Project Manager
Eric Bico
Assistant Editors
Tricia Bernasor
Maria Estela Paiso
Shaine Robles
Sound Design
Lawrence Ang
Animation
Greenroom Digital Studios
Executive Producers
Fran Omampo
Alfonso Bassig
Post Producers
Yan Alabado
Joreen Evangelista
Colorist
Adrielle Esteban
Assistant Colorist
Ian Galicia
Animation Team Producers
Nikki Amigo
Shannon Balangue
Animators
Mervin Malonzo
Neal Andrew Lim
Jojie Racuya
Mike Brum
TOC
Karina Gayle
Ace Aguilar
Illustrators
Roel Beltran
Jonathan Sumalpong
Tripni D
Opening Credits
Karlgene Piga
Art Direction
Monica Magsanoc
Field Producer
Dave Lagman
Filipino Subtitles
Luz Rimban
English Subtitles
Mookie Lacuesta
Production Assistant
AR Relox
Researchers
Tamia Reodica
Sofia Guanzon
Transcribers
Josh Castro
Arthlene Idaniol
Sam Malonjao
Photographers
Boy Cabrido
Heintje Fernandez
Student Intern
Catherine Bandoy
Mikela Coseteng
Never Forget
Get to know the Martial Law survivors featured in 11,103 and watch select cuts from the documentary. Keep the history and stories of Martial Law alive with a list of readily available online resources and key memorial sites.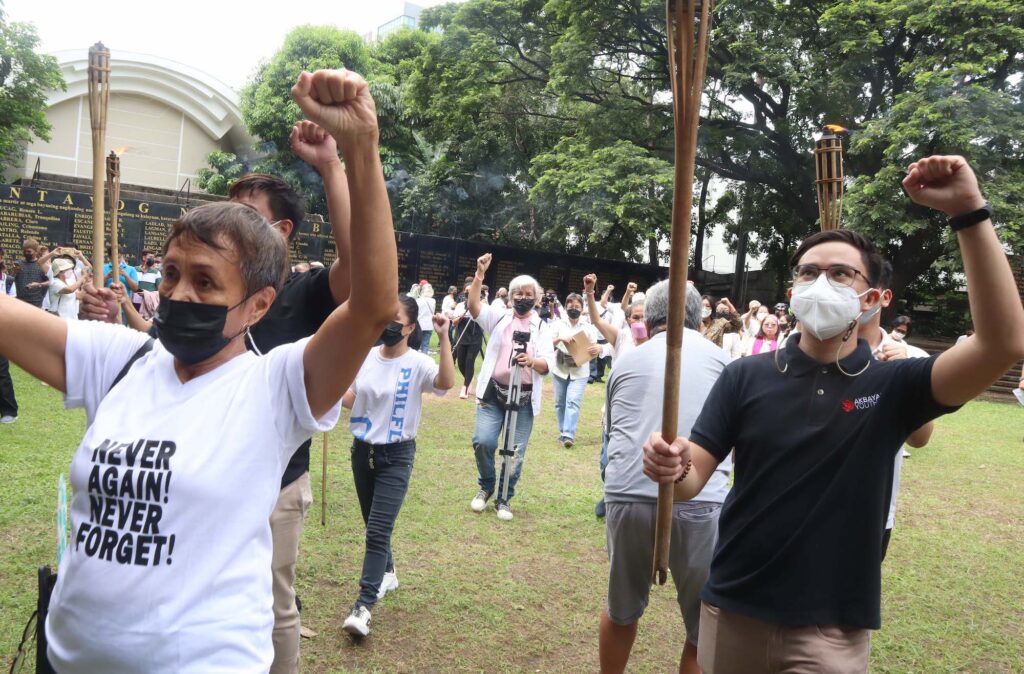 Gallery